6061 t6 aluminum flat bar busbar
6061 T6 Aluminium Busbar
Specifications
Pure aluminium has a conductivity of about 65% IACS (International Annealed Copper Standard)
Alloy 6061. This heat treatable wrought alloy is recognised internationally as providing the optimum combination of strength and electrical conductivity for busbar.
Temper T6
This is solution heat treated and artificially aged to max. mechanical property levels.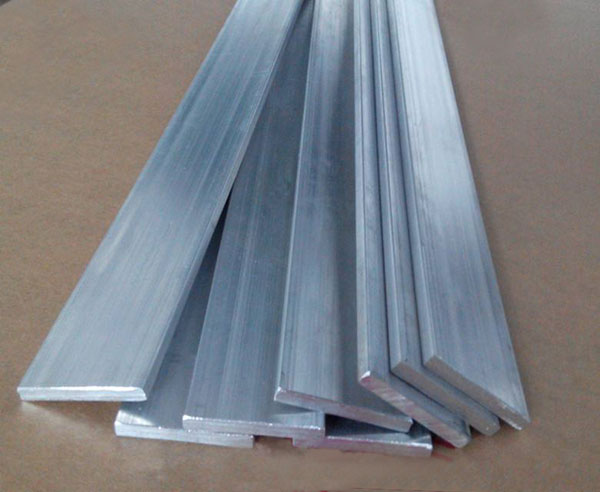 Thermal Capacity
The thermal storage capacity of aluminium is 0.214 cal/gram/°C. For copper it is 0.092 cal/gram/°C. Therefore aluminium has a thermal storage capacity of more than 2-3 times that of copper. This is used to advantage in wound transformers, as aluminium can withstand more surge and overload currents.
Conductivity
When the density of copper (8.89 gm/cm²) is compared to aluminium (2.91gm/cm²) and taking into consideration the conductivity ratio of aluminium to copper of 57% for grade 6101 aluminium, aluminium has approximately 1.85 times that of copper. Copper has a greater conductivity on an equal volume, cross sectional area basis.
Mechanical Strength
Aluminium does have a lower tensile strength (37%) than copper for the same cross section of material. However, approximately 66% greater cross-section of grade 6101 aluminium is required to carry the same amount of current as would be required for a copper conductor, so the larger cross-section of aluminium approaches the tensile strength of copper for a given ampacity.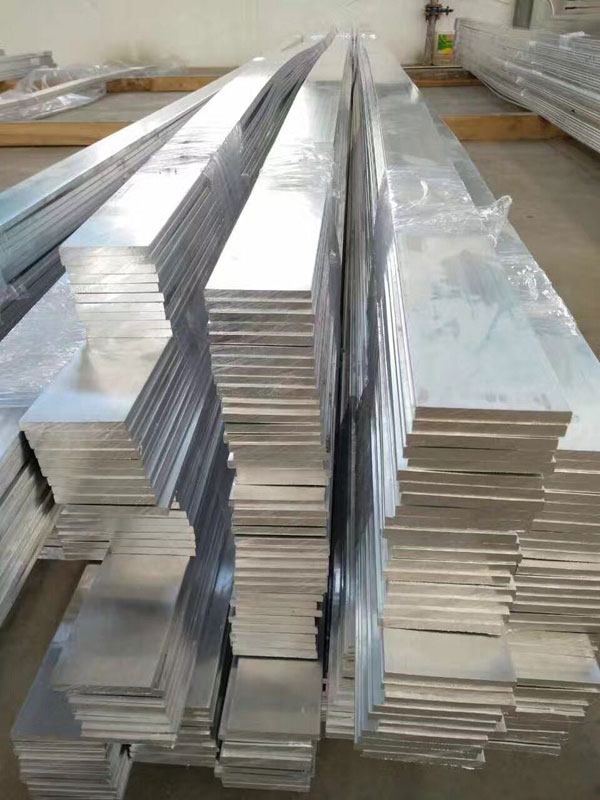 Weight
Aluminium is approximately 30% of copper of the same size. The charts on page 13 show weights per metre for standard rectangular aluminium and copper bars.
Chemical composition
Si
Fe
Cu
Mn
Mg
Cr
Zn
Ti
Each
Total
0.40-
0.80
Max. 0.7
0.15-
0.40
Max.
0.15
0.8-
1.2
0.04-
0.35
Max 0.25
Max 0.15
Max 0.05
Max 0.15
Detail information
Alloy : 6061
Temper : T3-T8
Surface Treatment: Zinc, Nickel, Tin, Silver, etc.
Tolerance: +/- 0.1mm
Length: up to 6m
Width: 10mm - 200mm
Thickness: 0.15mm - 40mm
Processing: Stamping, Bending, Drilling, Threading, Polishing, etc.
Application : Door & Window, Decorations,Heat Sink,Glass Wall, Transportation Tools;
Properties
Hardness 175 to 230 Hv200
Elongation in 50mm 15 to 25%
Tensile strength 620 MPa
Internal stress 3.4 – 620 MPa
Deposit appearance Semi-matt
Deposit thickness 10 microns
Features
Lightweight, with smooth finish and defined edges
General purpose material
Excellent candidate for most processing techniques
Good corrosion resistance
Excellent at resisting moisture and strong for its light weight
Specifications:
Brinell: 95
Tensile: 45,000 +/-
Yield: 40,000 +/-
Sizes: 2ft, 4ft, 6ft, 8ft, 12ft
Thicknesses: 0.250 inch (6.35 mm)
Tensile strength: 42,000 psi (290 MPa)
Mechanical properties
Temper
Thickness
e
Yield stress
Rp0.2 (mpa)
Tensile strength
Rm (mpa)
Elongation
A[%]
Elongation
A50mm [%]
Hardness
HB
T4
e<=25
110
180
15
13
65
T6
e<=5
240
260
9
7
85
5<e<=25
240
260
10
8
85
Physical properties (approximate values, 20℃)
Density
[kg/m3]
Melting range
[℃]
Electrical
Conductivity
[MS/m]
Thermal
Conductivity
[W/m.K]
Co-efficient of
Thermal expansion 10-6/k
Modulus of elasticity [GPa]
2700
585-640
22-30
170-200
23
≈70